Updated May 26, 2017
UPCOMING EVENTS: 2017
---
Juneteenth Celebrations
The Staunton Augusta County African Heritage Museum is hosting their 1st Annual Staunton Juneteenth Celebration at Montgomery Hall Park on June 10 from 8:00am - 8:00pm.

Juneteenth/Jubilee Day, sponsored by the Harrisonburg-Rockingham Chapter of the NAACP June 19; 6:00pm-8:00pm; Wildwood Park, Bridgewater, VA ​
---
---
National Park Service Enslavement Programs:
Don't miss these great programs!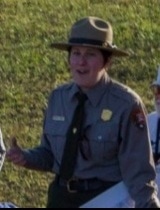 Park Ranger Shannon Moeck; Belle Grove Plantation

Shannon's program, Kneading in Silence: A Glimpse Into the Life of Judah the Enslaved Cook is a 30 minute program exploring the story of one slave at Belle Grove.
June 3 at 12:30 pm
July 1 at 2:30 pm
August 5 at 2:30 pm
September 2 at 2:30 pm
October 7 at 2:30 pm

---
ADDITIONAL PROGRAMS WITH THE NPS AND SHANNON MOECK
​* June 2 --History at Sunset: Enslaved to Freed—The Story of Clermont Farm to Josephine City (6:30 pm) Following the Civil War, newly freed African Americans began creating their own communities. In Berryville, the creation and development of Josephine City is a great example of many post-war African American communities. Join Ranger Shannon Moeck on this car caravan tour from Clermont Farm to Josephine City to discover the stories of how 16 black families (93 individuals) created this thriving community. Program begins at Clermont Farm (801 East Main Street, Berryville, Virginia).

* June 30—History at Sunset: Belle Grove Enslaved Burial Ground (7:00 pm) Join Park Ranger Shannon Moeck as she explains the challenges of identifying and preserving these sacred spaces. Questions this program will explore – What technologies have been used to learn about the landscape? Who was buried there? What where there burial practices and rituals of the Virginia enslaved?


---
The Shenandoah Valley Chapter of Coming to the Table
SATURDAY, JUNE 3, 2017, 10:15AM– 1:00 PMThe Shenandoah Valley Chapter of Coming to the Table

will feature "

RACE AWARENESS AND THE WHEELS OF INFLUENCE

" on Saturday June 3, 2017, 10:15 am – 1:00 pm at the Handley Library, 100 West Piccadilly St., Winchester, Virginia 22601.

THIS EVENT IS OPEN TO THE PUBLIC!!!!!

Lucia King, of the Shenandoah Valley Chapter of

Coming to the Table

(

www.comingtothetable.org

), will facilitate an experiential exercise that focuses on "Wheels of Influence." A "Wheel of Influence" is an exercise which allows us to identify key people in our lives from our past who strongly influenced us. It gives us the opportunity to reflect on what we learned from them about race, the positive and negative energies/emotions they taught us as young people. We will also examine key people today in our lives whose energies, both positive and negative, influence how we transform our attitudes and wounds about race.

SATURDAY, JUNE 24, 2017, 10:00AM – 1:00 PM
The Shenandoah Valley Chapter of Coming to the Table will co-sponsor with the Corhaven Graveyard Book and Film Club, the movie and dialogue:

"Twelve Years a Slave"
Alamo Drafthouse Cinema – Winchester
181 Kernstown Commons Blvd.
Winchester, Virginia 22602
The featured Coming to the Table Approach: UNCOVERING HISTORY – This event will facilitate the opportunity to - through dialogue - acknowledge and share personal, family and community histories of race with openness and honesty.
The featured
Coming to the Table Approach
:
WORKING TOWARD HEALING AMONG AND ACROSS RACIAL LINES –
This event will explore how we can heal together through dialogue, the arts, apology and other methods.
For more information, please contact:
Judith R. James
Co-chair, Shenandoah Valley Chapter of Coming to the Table
Judith.R.James@gmail.com
---
Jeffrey S. Evans Presents:
The African-American Experience in the Shenandoah Valley

June 10th: The Jeffrey S. Evans & Associates Seventh Annual Virginia Decorative Arts and Material Culture Seminar:
The African-American Experience in the Shenandoah Valley
JSE&A Gallery, Mt. Crawford, VA, 9:00 am to 4:00 pm
Featuring scholars and historians discussing the lives of African Americans in the Valley before and after the Civil War including a survey of slave dwellings.
Registration deadline is May 31, 2017. Cost: $95.00 (lunch provided); $85.00 (bring your own lunch). For registration form click
here
.
---
Harrisonburg-Rockingham African American Festival
June 17, 2017; Noon - 6:00pm; Ralph Sampson Park

Poet, Nathan Richardson will be returning to share more of the great Frederick Douglas with us.
Our very own Cynthia James and her family will be bringing us praise through song!
The Buffalo Soldiers will be back with their magnificent horses!
Local Community Groups, Vendors, Food and more!

AND the great band All Soled Out will be performing from 3:00pm - 6:00pm on the main stage.

---
Stay Tuned!
---