Shenandoah Valley Black Heritage Project
Interesting "Bits"
Updated March 7, 2017
Historical Marker honoring Bishop Edgar Amos Love to be installed at John Wesley Methodist Church in Harrisonburg!
Daily News-Record (Harrisonburg, VA)September 2, 2014
Historical Marker Sought For Civil Rights Activist
BRYAN GILKERSON

HARRISONBURG - A relatively unknown native son of Harrisonburg may soon have his impact on history recognized by the state.
Edgar Amos Love, born in the city in 1891, was a civil rights activist, U.S. Army chaplain, professor, Methodist bishop and co-founder of Omega Psi Phi, the first international fraternity at a historically black college.
Love's father, the Rev. Julius C. Love, traveled to various locations as a minister, so it is not clear how long the family remained in Harrisonburg. Much of his adult life was spent in Baltimore, where he died in 1974.
Several alumni of the James Madison University chapter of the fraternity, Beta Delta Delta, have formed a committee charged with the task of having Love's contribution to history immortalized by a state historical marker to be placed near John Wesley United Methodist Church at the intersection of Sterling and Effinger streets.
Julius Love was a minister at the church and his son was born in the parsonage, although at that time the church was located at the site now occupied by Union Station Restaurant and Bar at 128 W. Market St.
Michael Peterson of New York City, one of the committee members seeking the marker, said the impetus for the effort was actually due to a mistake.
At a 2011 celebration marking the 100th anniversary of the fraternity's founding at Howard University in Washington, D.C., it was discovered that official records had identified Love as being born in Harrisburg, Va. - a location that doesn't exist.
"For over 100 years, there has been a part of our history that has been incorrect," Peterson said by telephone Sunday afternoon.
Other members of the committee include Brian Tyler of Hampton, Lee Parker and Rodney Jefferson, both of Richmond, Andre Wallace of Newport News and Randy Tapley of Charlotte, N.C.
Wallace's wife, Dawnn Wallace, assisted the committee in its research.
According to memoirs published by the United Methodist Church, Love was educated at Morgan College in Baltimore, Howard University and Boston University.
During World War I, he served overseas for 14 months as an Army chaplain, before returning and working as a teacher at Morgan College.
A Washington Post article dated Feb. 15, 1922, notes that Love was elected to serve as the national chaplain for the American Negro Veterans of the World War organization.
He was elected a bishop to the segregated Central Conference of the Baltimore area in the Methodist Church.
It was his social activism as a bishop that the committee members say deserves historical recognition.
"His contributions are not really well known," Dawnn Wallace said. "Individuals in Harrisonburg have no idea of the impact he made."
Love was involved in desegregation efforts and voter registration drives throughout the 1950s, presided over interracial marriages and even held the ear of President Dwight D. Eisenhower.
Love's efforts also helped the Methodist Church integrate in 1965, according to his 1974 obituary published in The [Baltimore] Sun.
"He was a big part of black history ... and [American] history in general," Dawnn Wallace said.
Harrisonburg City Council unanimously gave its support for the request for a marker at the Aug. 26 meeting, with several council members saying that they were unaware of the significance of Love in the nation's history.
The next step in the historical marker process is to gain approval from the state.
The committee members said that the state Department of Historic Resources would review their application this month and make a determination on the marker in December.
If given approval, the committee plans to unveil the marker on Apr. 18, 2015, to celebrate the 30th anniversary of the fraternity's charter at James Madison University.
Love's son Jon is expected to be present for the dedication, as well as several JMU African-American organizations and the 40th national president of the fraternity, Tony Knox.
Contact Bryan Gilkerson at 574-6267 or bgilkerson@dnronline.com
City Council has endorsed a request seeking to put a state historical marker in front of the John Wesley United Methodist Church on Sterling Street in honor of the late Edgar Love. (Photo by Jason Lenhart)


The Maddens' of Madison County
In August of 1758, in Spotsylvania County, Virginia, a poor Irish immigrant named Mary Madden bore a child, Sarah Madden, whose father was said to be a slave and the property of Colonel James Madison, father of the future president of the United States. This daughter, though born to a free mulatto, became indentured to the Madisons. There she worked as a seamstress to pay off the fine of her birth until she was thirty-one years old.

Sarah Madden bore ten children; when the term of her indenture was over, she and her youngest son, Willis, struck out for themselves—Sarah as a seamstress, laundress, and later, with Willis, a dairy farmer and tavern keeper.

Spanning two hundred years of American history, We Were Always Free tells its story with remarkable completeness. we can thank Sarah Madden and her descendants for keeping their family narrative alive—and for saving hundreds of important documents detailing their freedom, hardship, and daily work.

These documents came to light in 1949 when T. O. Madden Jr. discovered a hidebound trunk originally belonging to his great-grandfather Willis. Stored in the trunk were papers dating back to the mid-eighteenth century, freedom papers, papers of indenture, deeds of land, Sarah Madden's laundry and seamstress record books, letters, traveling passes. The trunk even held a full set of business records from the nineteenth century when Madden's Tavern flourished as a center of activity in Orange County and as a rest stop on the road to Fredericksburg.

From that day forward, T. O. Madden deeply researched his family, using census reports, other official sources, family, and friends. All have led to his ably reconstructed family history, and to his own remarkable story.

We Were Always Free is a unique and very American family saga.


---
National Public Radio's show "With Good Reason's" story on African Americans vacationing in the south during the 1900's.
With Good Reason's
June 28th broadcast has a story about African Americans vacationing in Virginia in the 1900's. Here is the link to the program's website.
http://withgoodreasonradio.org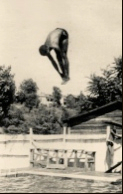 "Later in the show:
Where did African Americans in the south vacation during the Jim Crow era when facilities in many of the parks were segregated? New research by
Brian Katen (Virginia Tech)
is revealing a vital and widespread network of African American owned and developed recreational sites including parklands, amusement parks, mineral springs, and camps.
Plus:
From
Jesse Dukes
and
Big Shed Media
, the story of Dreamland, a swimming pool and dance hall in Roanoke, Virginia's historic African-American neighborhood of Gainsboro. Built in the 1930′s, Dreamland was condemned and torn down in 1947 as a forerunner to drastic and damaging urban renewal in Gainsboro."
---
---
Jeffrey S. Evans & Associates
June 21, 2014
Price Realized: 977.50
Lot#: 371
Description:
FOLK ART CARVED WOOD HANDLED FRAME, the end of the handle depicting a relief carved bust, possibly of an African American, the frame with a 1/2" deep center possibly to hold a mirror. Original varnished and black-painted surfaces. Circa 1920-1930. 14" L, frame 6" D.
Very good condition with some expected wear.
Provenance: Found in Virginia.
Estimate: 100.00 - 200.00

---
Lot#:245Description:IMPORTANT VIRGINIA AFRICAN AMERICAN FRATERNAL
CARVED AND PAINTED FOLK ART CANE / WALKING STICK, maple, a fine and rare example of historical importance featuring crossed military rifles, clasped hands, tobacco leaf, American shield, alligator, "UOTR" and "1213" and other symbols. Likely the property of a lodge member of the United Order of True Reformers, an early African American fraternal organization. Outstanding dry original polychrome-painted surface. Circa 1881-1890. 35 1/2" LOA.
Excellent original condition with minor wear.
Provenance: Collection of the late John and Lil Palmer, Purcellville, VA.
Jeffrey S. Evans/Green Valley Auctions, November 15, 2003, lot 1141.
Catalogue Note: The United Order of True Reformers was an African American fraternal organization founded in 1881 by William Washington Browne, a Methodist minister in Richmond, VA. Browne, who was born in 1849 to slave parents in Virginia, lived a momentous and accomplished life. W.E.B. Dubois characterized the UOTR as "[p]robably the most remarkable Negro organization in the country". The present walking stick is a rare survival and an important artifact of American history.

Estimate:2,000.00 - 3,000.00

Sold for $2645.00

---
BLACK SOLDIER'S LETTER BRINGS $38,400

A letter written on December 3, 1864, by Sgt. Morgan W. Carter from his winter quarters at City Point, VA, was recently offered at auction. The letter was expected to bring $6,000-8,000; however, the winning bid brought $38,400. Carter served in the 4th Division, 9th Corps. He was the son of a grocery store owner who was active in the Underground Railroad in Madison, Indiana. The letter contained excellent content, including, "I will give up my life most willingly to benefit the "colored race."