United States Colored Troops

Updated September 29, 2017
We Honor Those Who Served
The Shenandoah Valley Men Who Served with the
United States Colored Troops
The NMAAHC has wonderful exhibits about the USCT
Recent Discoveries
We have found the names of many men who fought for the Union during the Civil War. Some of these come through helping families with their family trees. We will help any family who comes and requests access to ancestry.com and other genealogical websites. It is all done privately. When we discover a soldier in a family tree we make sure the family gives us permission to list that soldier. In the case of Adolphus Augustas and James Madison Boggs we asked permission to share the discovery of these men and their service.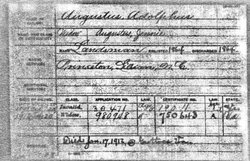 Adolphus Augustas lived in Rockingham County. His descendants lived in Elkton, VA.
---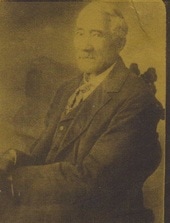 James Madison Boggs is the great grandfather of Freda McCarthy. He lived 1837-1923. He served with Co. H of the 5th Heavy Artillery Unit of the United States Colored Troops. Freda is also a veteran.
---
The Men Who Truly Fought For Freedom. We Speak Your Names.
Introduction: This is a work in progress and will be updated. There are over 600 names in this list from the National Archives/Ancestry.com. These are the men who told the Enlisting Officers, their County of Birth. Thousands just put Virginia, as did John Toliver. If you know of a soldier who fought with these troops and is not listed, please contact me. lblrobin@shentel.net I will also be adding a section for the men who moved to the Valley following the Civil War but were born outside of the Valley.

I have added a "Status at end of war" column. The statistics are tough. It should be noted that on several occasions, men listed as deserters were actually Prisoner's of War, escaped and returned to duty. In this column, "Survived" indicates the men were mustered out at end of term of service or when the Army dissolved their Regiments. In some cases Regiments were broken up and they continued to serve but no more information is listed, therefore I have put a "?". In some cases the records are incomplete. In those instances I also put a "?". I have included some of their service notes etc. If it is in quotes it is directly taken from their military records.

Over 650 men so far from the Shenandoah Valley Who Served With The United States Colored Troops.
By Robin Stevens Lyttle
These men left their families and escaped enslavement to sign up for one to three years of service to fight for freedom. I applaud every time I find a survivor and weep every time I find someone who perished. Their deaths went largely unnoticed and chances are their families never knew. We honor those who served.

---
Dale MacAllister's paper about USCT soldier, George Washington and the Briery Branch Community


Honoring: Private John Cooper; USCT 38th, Co. K
Private John Cooper
The file below has copies of his military cards, census records and verification of his service.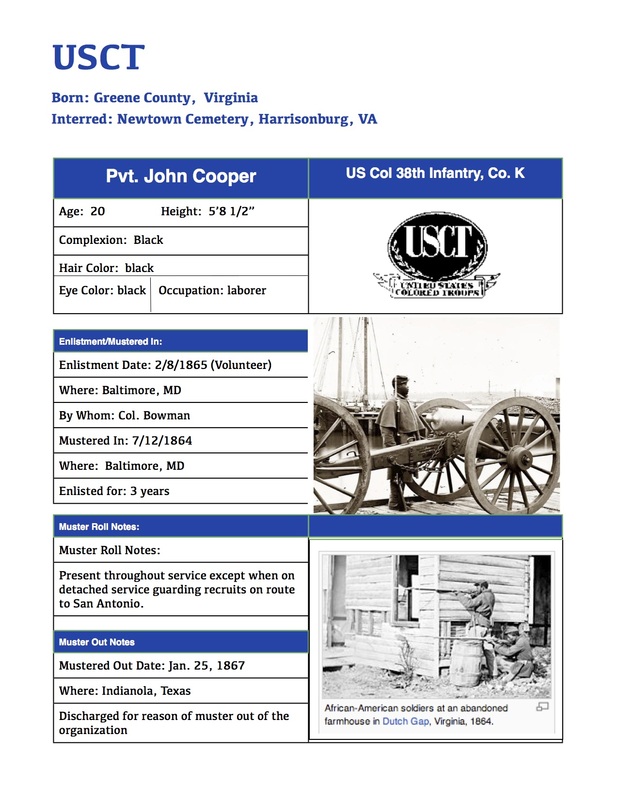 ---
USCT - United States Colored Troops: credits
NMAAHC - Civil War images and video
Pyramid Studios for Smithsonian Channel
in collaboration with National Museum of African American History and Culture Executive Producers/Creative Team
Dixie Hornstein
Bruce Hornstein
Contributing Writer
Associate Producer
Narrator
Stock Footage & Stills
Bridgeman Images
Broadsides & Ephemera Collection, David M. Rubenstein Rare Book & Manuscript Library, Duke University.
Collection of the Massachusetts Historical Society
Corbis
David Rumsey Map Collection Cartography Associates
Digital image courtesy of the Getty's Open Content Program
Getty Images
Harry T. Peters 'America on Stone' Collection, National Museum of American History, Smithsonian Institution.
Library of Congress
National Archives and Records Administration
National Museum of American History, Kenneth E. Behring Center
National Portrait Gallery, Smithsonian Institution
The Granger Collection, New York
Music Credits
Moore, Robert H, II's blog "Cenantua" is a great resource:
http://toolongforgotten.wordpress.com
Rare Photographs of USCT:
http://npsfrsp.wordpress.com/2012/02/13/a-rare-photograph-of-uscts-on-the-eve-of-the-overland-campaign/
National Park Service, Search for Soldiers:
http://www.nps.gov/civilwar/search-soldiers.htm